Travelodge Merritt
Establishment and lodging at 3581 Voght Street, Merritt, BC V1K 1C5, Canada. Here you will find detailed information about Travelodge Merritt: address, phone, fax, opening hours, customer reviews, photos, directions and more.
Opening hours
| | |
| --- | --- |
| Sunday | 12:00am — 11:59pm |
| Monday | 12:00am — 11:59pm |
| Tuesday | 12:00am — 11:59pm |
| Wednesday | 12:00am — 11:59pm |
| Thursday | 12:00am — 11:59pm |
| Friday | 12:00am — 11:59pm |
| Saturday | 12:00am — 11:59pm |
Rating
3.83 /5
Based on 6 reviews
Photos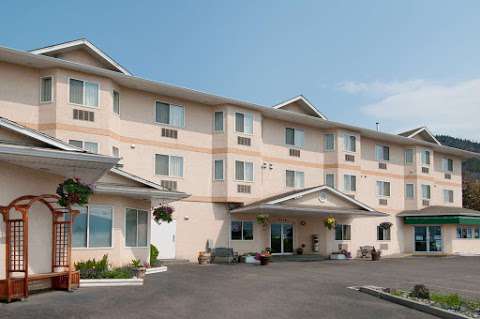 Reviews of Travelodge Merritt
Amy Fd Added 2018-10-27

★ ★ ☆ ☆ ☆

Hot tub was broken pool was so cold. Room was clean

Tyson Lagrosse Added 2018-10-19

★ ★ ☆ ☆ ☆

The Place Had Spacious Rooms, It Was Pet Friendly But Their Pet Rules Are Weird. Your Pet Is NOT Allowed On The Bed Or In The Room By Him/Herself And For The Time For Being In Merritt My Family Was Invited To An Event At The Time!

Joel P Added 2018-10-12

★ ★ ★ ★ ☆

Stayed here on our way to Banff from Tsawassen. Clean decent rooms with no issues with regards to the washroom or lights, TV, etc. Service at the front desk was okay. The breakfast had a waffle maker, boiled eggs, and cereal, so don't expect much there.

Delilah Milne Added 2018-09-16

★ ★ ★ ★ ★

Fantastic customer service. Bed was comfortable and the man working at the front desk was a gem. We had a bit of an issue with our room which was not a big deal at all and he was just awesome at making us feel welcome and accommodating us. Would stay again in a heart beat.

David E. Added 2018-08-11

★ ★ ★ ★ ★

Best value for lodging in the area! Spacious, clean, quiet and bright rooms. Hands-on owner continues to invest. This hotel gets even better over time. Highly recommended.

Kita Jackson Added 2018-02-14

★ ★ ★ ★ ★

Who cares if it's semi dated princes....I guess you don't travel through Canada that often. Just look at the bed bug problem. This place is super clean. They promised me they spray monthly. I'm tucked in minus bed bugs. Thanks to this strongly run family business. Good job and much appreciation. Sushi restaurant was to busy for it's own good. Considering that...also well done. Just as good as any in Van that are not in the uppity category. Clean and good food! These people appreciate their jobs...unlike a lot of bad attitude Canadians.